Searching database of minor planet names
The catalog of asteroids discovered at Klet can be searched in two ways. In the first one, pick a starting letter of asteroid's name from the listed alphabet. In the second way, start writing an expression to search (diacritics is allowed), and after at least three letters are typed, the results are automatically listed. The search can also be performed only on asteroid names, catalogue numbers, date of discovery or names of the discoverers.
Zappafrank
3834
1980 JE
Discovered by 11.05.1980 by L. Brožek on Klet observatory
MPC 23792 (22.07.1994)
https://ssd.jpl.nasa.gov/sbdb.cgi?sstr=3834;old=0;orb=1;cov=0;log=0;cad=0#orb
Named in memory of Frank Zappa (1940-1993), rock musician and composer of innovative contemporary symphonic, chamber and electronic music. Zappa was an eclectic, self-trained artist and composer with incredible energy and a biting wit, and his music transcends the usual music barriers. Before 1989 he was regarded as a symbol of democracy and freedom by many people in Czechoslovakia.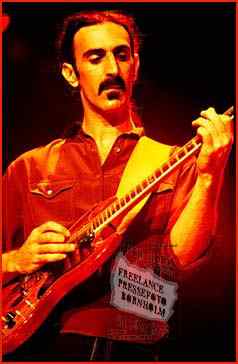 Frank Zappa
Photo: Poul-Erik Rath Holm