Searching database of minor planet names
The catalog of asteroids discovered at Klet can be searched in two ways. In the first one, pick a starting letter of asteroid's name from the listed alphabet. In the second way, start writing an expression to search (diacritics is allowed), and after at least three letters are typed, the results are automatically listed. The search can also be performed only on asteroid names, catalogue numbers, date of discovery or names of the discoverers.
Plavec
6076
1980 CR
Discovered by 14.02.1980 by L. Brožek on Klet observatory
MPC 25654 (9.09.1995)
Plavec
https://ssd.jpl.nasa.gov/sbdb.cgi?sstr=6076;old=0;orb=1;cov=0;log=0;cad=0#orb
Named in honor of Mirek J. Plavec (b. 1925), Czech astronomer living in the U.S. since 1969, professor of astronomy at the University of California at Los Angeles. His early works dealt with meteor showers, but he is also widely known for his studies of close binaries, especially of mass transfer in binary systems. Name suggested by J. Tichá, M. Tichý and Z. Moravec, who observed this minor planet at Kleť at the 1994 opposition, just prior to its numbering.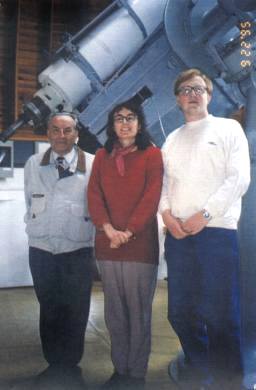 From the left: M. Plavec, J. Tichá and M. Tichý at the Kleť Observatory.
Photo: Z. Moravec